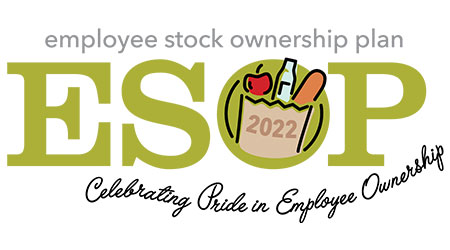 Coborn's Inc. 11th Annual Employee Ownership Event
Coborn's 2022 EMPLOYEE SHAREHOLDER CELEBRATION
June 2022
As you know, we have celebrated our annual update with our employee-owners each year for the past 10 years. The pandemic, of course, threw a wrench in the "live" celebration we hosted up until 2020 when we had to transition to a virtual event for obvious reasons. In 2021, we celebrated our 10th ESOP event, but again, did so with a virtual event. We will continue delivering our shareholder message from our company's leadership virtually going forward.
As you may know, in December of last year, we acquired the six-store Tadych's Econofoods family of stores in eastern Wisconsin and the Upper Peninsula of Michigan. Our operations now span 950 miles – from Marquette, MI to Williston, ND. That's a lot of distance to travel. As such, that distance makes it far more difficult for employees to travel to an event in St. Cloud, MN. We have therefore decided that we need to "reinvent" our annual ESOP celebration and will continue producing a virtual event to share with our employee-owners in late June going forward.
We have much to share this year, our 11th Annual ESOP shareholder meeting, including our previous year's accomplishments, announcing our 2021 share value and recognizing all of our remarkable employees across all of our locations. In addition, we will be announcing a new employee Intranet portal, recognizing our Locations of the Year and each store location will be planning some fun events in each of their communities to celebrate pride in employee ownership.
We are extremely grateful for your support of our company over the last many years and hope you'll join us again this year. As a valued vendor, we are asking that you please consider sharing one (or both) of the following items to give to our employees in conjunction with this virtual event.
A HIGH-VALUE DIGITAL COUPON

(more details on Wufoo Form): It could be a timeless favorite or a brand-new item you have recently introduced and would like our employees to know more about, as well as try. We will be loading these offers as digital coupons to each employee's MORE Rewards account for them to try your item.

COUPONS WILL BE VALID FROM 6.19.2022 to 7.2.2022 unless otherwise noted.

We will invoice vendors after 7.2.22 once all redemptions are in.

The coupons you provide will be distributed to approximately 7000 Coborn's, Inc employees' MORE Rewards accounts as digital offers they would digitally "clip" to redeem. There will be breakage. Based on past history, we would expect redemptions to be somewhere between 1000 and 1500.

A DOOR PRIZE:

Please consider providing a "big ticket" prize to be awarded to our ESOP eligible employees. This could include electronics, art, souvenir items, apparel, or other prize of perceived value. Our employees greatly appreciate the prize donations you so generously provide…it is an event highlight.

Please send prizes by June 3rd to:

Diane Skillingstad

Coborn's, Inc.

1921 Coborn Boulevard

St. Cloud, MN 56301
Please fill out the vendor participation portal by
Monday, May 16th.
Please send prizes by
Friday, June 3.
You have been instrumental in supporting our company's success and we are grateful for your partnership. Thank you for your participation.