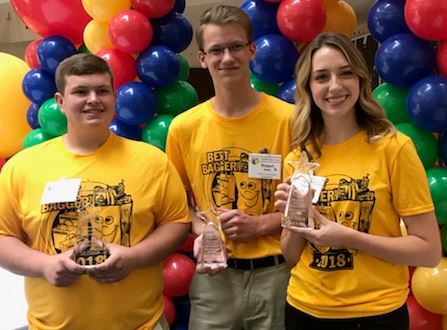 Tyler Haselkamp, an employee at Coborn's in Clearwater, has been named the state's top bagger this year after taking first place at the annual Minnesota Grocers Association bagging competition on Saturday.
The event, held at the Mall of America in Bloomington, was a face-off between nine of the best baggers across Minnesota. All of the participants were judged on bagging speed, style, attitude, proper bag building technique, and weight distribution of the bags as they worked against the clock to strategically pack food into reusable bags.
Tyler won $500, a trophy and a trip to San Diego where he will represent Minnesota in the National Grocers Association (NGA) bagging competition, which is scheduled to take place in February.
"Our whole store is very proud of Tyler, it's been very exciting," said Jason Zilka, Store Director at Coborn's in Clearwater. "Tyler will represent our company, and our state, very well at the NGA tournament."
Tyler was not a stranger at the Minnesota Grocers Association tournament. He competed there in 2016 and 2017; last year he took home 2nd place.
Additional information about the state bagging competition from the Minnesota Grocers Association:
The MGA has held the Best Bagger Contest for 30 years. This contest is important to the MGA and its membership because it is a fun, fast-paced, and an entertaining competition, but most importantly, this event showcases the talents of one of the industry's key employees. Baggers are the people responsible for the last experience customers have in a store, and the contest's focus on these top baggers truly exemplifies the food industry's dedication to customer service.