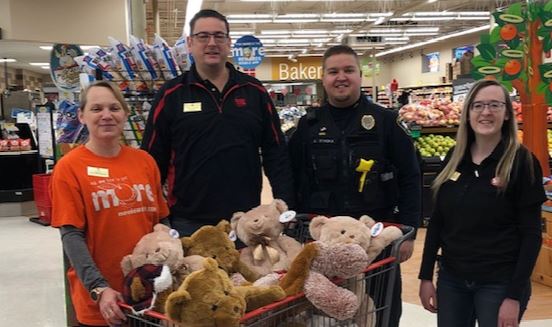 Although the season of giving has come to a close for most of us, Cash Wise in Jamestown has an extra gift that's sure to comfort kids going through difficult situations during the year.
On Friday, January 29, Cash Wise staff presented the Jamestown Police Department with roughly a dozen teddy bears. Store Director Matt Arends said the bears were overstock from the holidays, and his team wanted to put them to good use.
"We wanted to use them to help the community," Arends said. "We then had this idea to donate them to the police department to comfort kids."
Those in the photo above include:
-Cheryl Jacobson – Assistant Store Director
-Matt Arends – Store Director
-Officer Andrew Staska – Jamestown Police Department
-Kristin Willey – Assistant Frozen/Dairy Manager
Thank you to the team at Cash Wise in Jamestown for your innovation and being a shining example of Coborn's, Inc.'s commitment to the communities it serves.